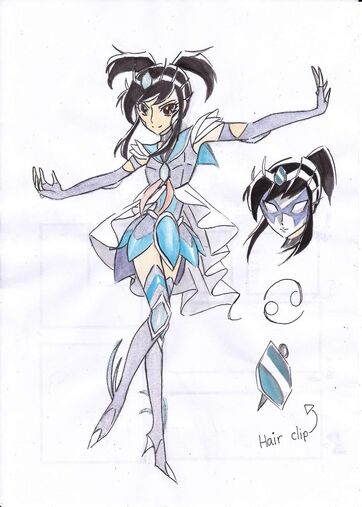 This Page belongs to me, User:GreenKissTheKirby, please do no edit without permission.
Cancer Rona is the child of Cancer Schiller & adoptive daughter of Vega Celestia. She are a Silver Knight.
Profil & StoryEdit
Name : Cancer Rona
Age : 19 years
Constellation : Cancer
Aura-Cosmos : Freezing Aura
Rank : Silver Knight
Living : Palestra
Family : Vego Celestia - Cancer Schiller
_______________________________________
Before The  SSO Events, Cancer Rona has living into the Cancer Home with her father, Cancer Schiller. She has meet Celestia when she has been 6 years old. When Celestia are coming into her life, Cancer Schiller are choose to be her adoptive father, to  protect Celestia, but he has lying. He begins uses Celestia like a slave. But Rona has ever protect Celestia over Schiller. Because of that, Schiller has get out of the house Celestia & Rona.
Personality & TraitsEdit
In first time, you will should Rona are evil and not gentle, but she are really protective with her friends and she have the sacrifice's sens.
More to come...
Physical AppearanceEdit
Rona have got a black quilt hair & brown/red eyes.
Her armor, are gray, blue, white & purple. She haves a Hair clip & a mask.
More to come...
Powers & AbilitiesEdit
Freezing Cosmos, Increase my Puissance ! : This attack is like the Cosmos Enhancement of Celestia. Her powers are more strange.
Freezing Cosmos, Increase my Puissance & reflets to my legs ! : This attack is a ability who makes more strange in her legs.
Cancer Feeling : Crab's Sting ! : This attack is like the Sonia's Ability : The Hornet's Sting.
Cancer Rona, are the children of Cancer Schiller
More to come...